Youtube Video
【Brushless Motor & Excellent Durability】 --- Kebtek electric compact chainsaw is equipped with a powerful brushless motor. The performance is stable and the cutting efficiency is high.3 to 5 times longer service life than conventional pure copper motor. The powerful motor speed is up to 11m/s, and the output power of 650w can cut logs with a diameter of 6-inch in 10s.

【Safety First】---The electric hand chainsaw equips with a safety switch to protect against accidental start-up. A protective cover for the guide bar is also to prevent accidents. In addition, the Kebtek electric tree cutter is equipped with a baffle protection prevents the branches, leaves from scratching the hand.Rubberized handle makes you more comfortable to hold and easier to control, achieve well-balanced with a high cutting performance.

【Easy to Use and Maintain】 --- The cordless chain saw is equipped with lubricating system. After filling the injection port with lubricating oil, each part is automatically lubricated. You can easily adjust the tension by turning the tension adjustment button on the chain. Tool-free installation,easy to maintain and suitable for home use.

【Energy Saver & Time Saver】--- This mini chainsaw 8inch cordless is almost ready-to-use right out of the box.With 11m/s super high chain speed saw which can cut slices like butters. Comes with two powerful and rechargeable 21V 2000mA portable power, which allows you to run for up to 60 minutes. That's more than enough time to make around 60cuts in branches (≈6inches).

【Energy Saver & Time Saver】--- It is only 1.6kg/3.52lbs, lightweight and convenient. Our 8inch mini chainsaw, compared with the smaller 4inch & 6inch mini chainsaw, the cutting surface is larger and more labor-saving. They are better for more delicate or thin pieces of wood. Easy to control than other large chainsaws in these situations. Perfect for family use and as a gift to family,friends,DIY enthusiasts,carpenters,and craftsmen.

【High Quality Chainsaw】---Our 8inch electric hand chain saw with a low kickback bar and high hardness quenched chain. The quick heat dissipation ensures the motor runs efficiently. This high-quality tree saw is tough and wear-resistant, sharp and smooth cutting, not easy to jam the chain, fast cutting, and longer service life.

【Warmly Tip 】--- Please check the chain direction, adjust the chain tightness and lubricating the chain before you use.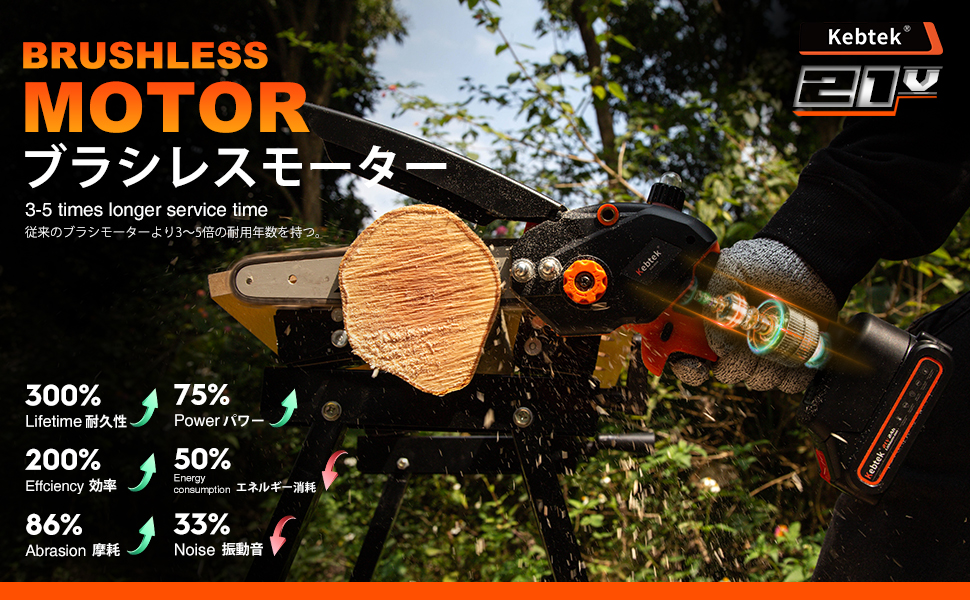 Package Included:
Chainsaw Machine*1
2000 Capacity Portable Power *2
Tool set*1
User Manual*1
Googles*1
Gloves*1
Carry case*1
Extra chain*1
Please read the instruction manual before use.

Please keep away from children and pets.

Please note: The lubricating oil port is an empty container. You can use normal engine oil.
Kebtek 8Inch Brushless Electric Chainsaw DLA-0016
Specification:
Model number:DLA-0016
Body material: ABS
Rated power: 21V
Rated power: 650W
Chain speed: 11m / s
Power capacity: 2000 * 2
Charging time: 2 hours
Operating time: 60-80 minutes (2 power supplies)
Guide bar (chain): 8 inches
Warmly Tips:

Please full charged for at least 5 hours before your first time. use

Please check the chain direction before you use.

Please add lubricating oil before you use.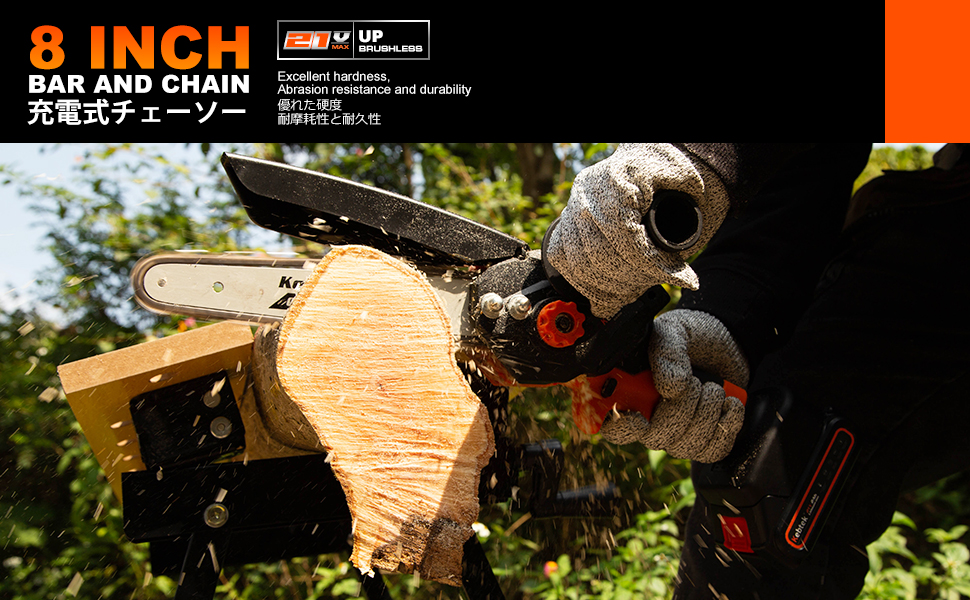 Kebtek, Happy Gardening!
Cut slices with Kebtek 8Inch Electric Wood cutter.

DLA-0016 is equipped with a powerful brushless motor.

The performance is stable and the cutting efficiency is high.

3 to 5 times longer service time than conventional brush motor.