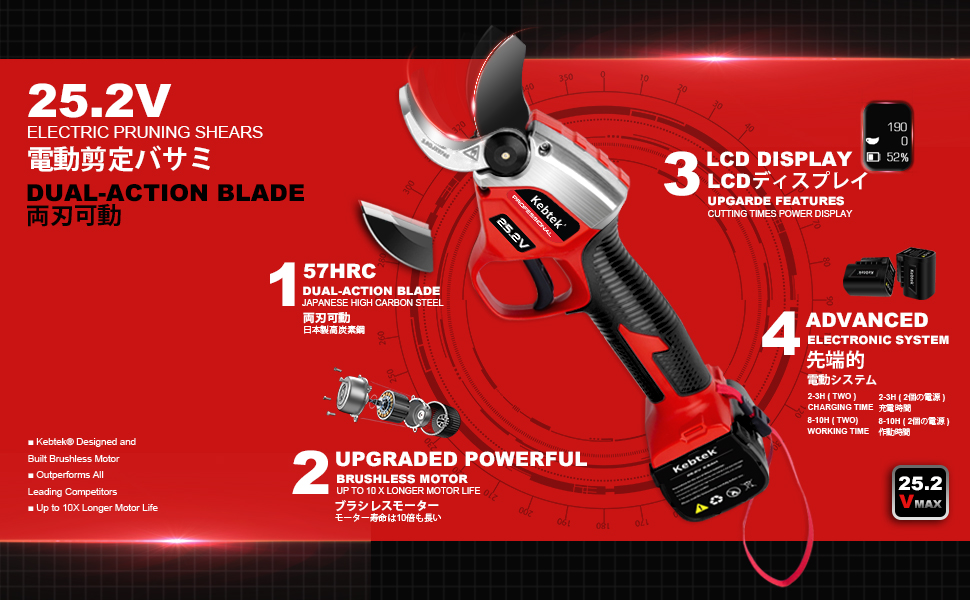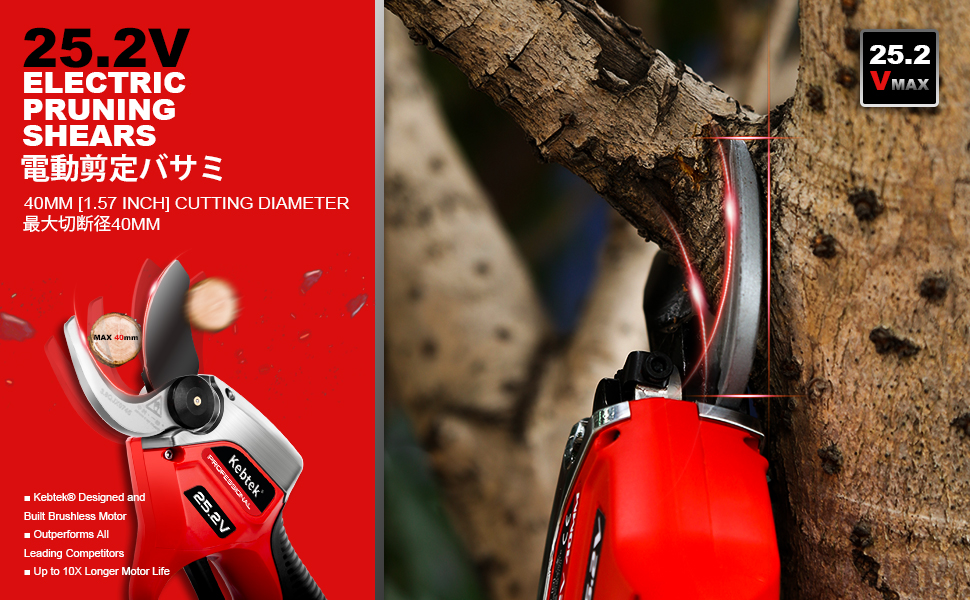 Professional Electric Pruning Shears Exclusively for farmers -ZCYL-001 (25.2V 40MM)
1.【Double-Action SK5 Blades】-- Kebtek electric pruning shears can operate two blades at the same time. The cutting ability is more outstanding and efficiency can be improved. Forged from high-grade SK5 high carbon Teflon steel, it is sharp, durable and cut flater. Keeps the plants clean and healthy.Teflon coating is healthy to tree and Prevent different trees from spreading diseases.

2.【Progressive Cutting Control】--- The opening of the blade of electric scissors can be stopped at any angle, so it can be used for fine and careful pruning like hand pruner. 40MM/1.57inch max cutting diameter.

3.【Upgraded Blade Left Design】--- Our electric pruner with upgraded blade left design, which could be cut more closer to the trunk. It is easy to insert the blade and delicate pruning work can be performed. LCD cutting times display will display the cutting times and the power remain.

4.【Long operating time】--- Our electric tree branch cutter equipped with 2Pack 2500mAh rechargeable,sustain to use 8-10 hours working hours, 2-3hours fast charging. The charger can charge both at the same time, save your time and let your work more efficient. Notice: The package is not fully charged, please charge at least 5hours before the first use.)

5.【Safety Design】You have to press the trigger 2 times to activate it and it will go into auto sleep without any operation for 60 seconds in case of accidental cut. Anti-slip handle and anti-drop rope are designed to enhance comfort and safe.

6.【Widely Appliction】 -- Our hand held battery powered tree branch pruner is designed to solve cutting fruit tree branches, especially thick branches. Can be used on all types of gardens, parks, farms, large pastures, orchards, greenhouses,you can cut grape,cherry tree,apple tree,etc.