[Sturdy & Durable Blade] ---Kebtek 32mm professional cordless pruning shears' blade is forged from high strength SK5 carbon steel with higher tenacity and rigidity, which makes it can be operated quickly and durably. It is extremely sharp and durable, making it easy to cut 1.26 inch/32 mm hard branches. Our Electric pruning shears can be quickly pruned, clean and flat, does not damage the branches.

[ Efficient Brushless Motor ] --- Our Cordless electric pruner is equipped with a strong permanent magnet brushless motor. Compared with brush motor, brushless motor provides more power, longer operation & extend motor life. Our Electric pruning shears can be quickly pruned, clean and flat, does not damage the branches.

[Long Working Time & Lifetime] --- Our electric branch cutter is equipped with 2pcs 18V 2AH lithium batteries, it can work continuously for 6-8 hours, and the charging time is only 2-3 hours. Grade A cells battery, up to 500 rechargeable cycles which has the third generation smart chip-intelligent power regulation.

[Ergonomic & Extendable Design] --- The ergonomic handle design helps relieve hand pain from prolonged cutting. Intelligent LCD display shows the battery power remain and number of cuts, monitor the cutting situation Intuitively. Our this model B05532 also could be connect with extension pole never need to climb ladder anymore.(Extension pole model: B05503M not included)

[Widely Appliction] --- Our hand held battery powered tree branch pruner can be used on all types of gardens, parks, farms, large pastures, orchards, greenhouses,you can cut grape,cherry tree,apple tree,etc. Great gift for garden lovers.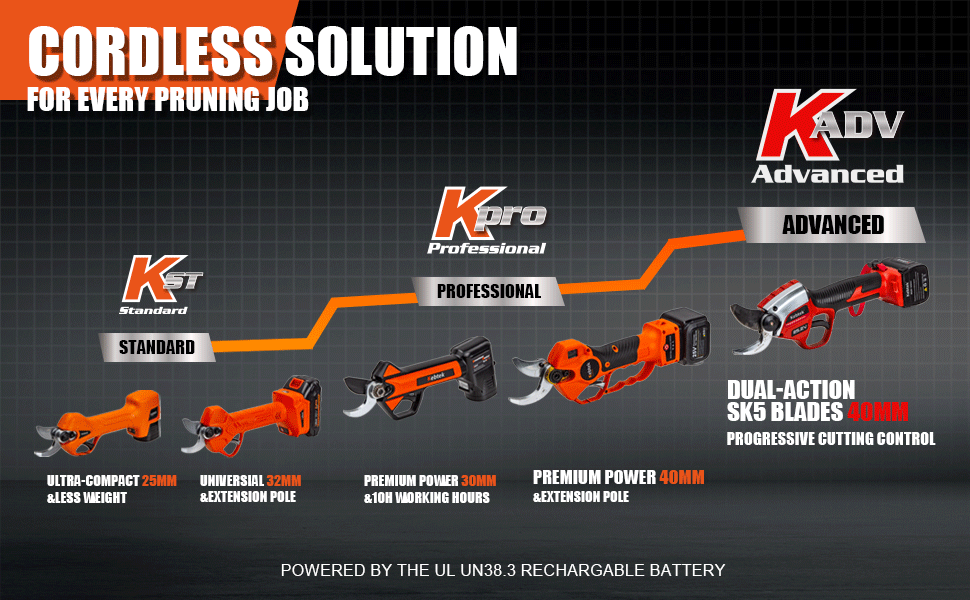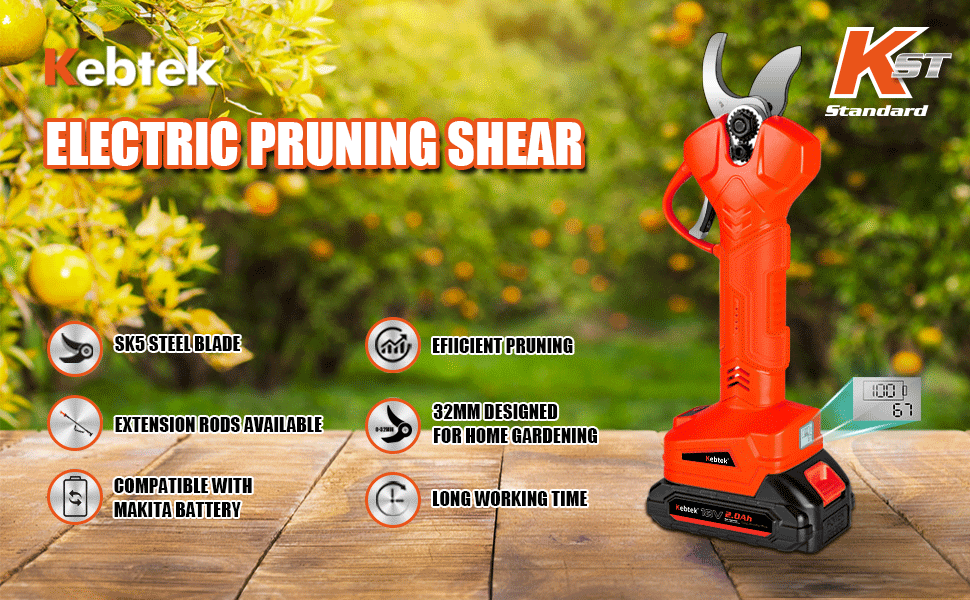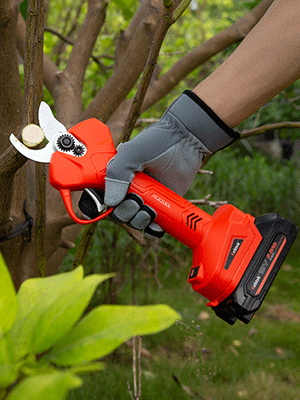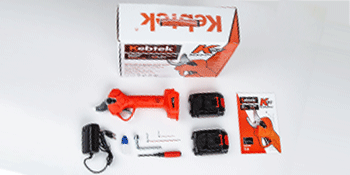 Package included:
Electric Pruning Shears x 1
2000mAh Battery x 2
Charger Adapter x 1
User's Manual x 1
Tool set x 1
Empty Oil Bottle x 1
Please read the instructions carefully before using.
Kebtek 32MM 18V Professional Pruning Shears
You can easily cut not only shrubs, but also high branches. (Extension pole sold separately, Model NO: B05503M)
Specification:
Body material: ABS
Working voltage: Rated18V, Max 21V
Maximum power: 500W
Charging voltage: AC110-220V 50-60Hz
Battery Capacity: 2000mAh rechargeable batteries
Shear diameter: 1.26inch( 32mm )
Blade material: SK5 high carbon steel
High-speed Charging time: 1-1.5 hours
Working time: 3-4 hours for a single battery, 6-8 hours for two batteries
This electric pruning shears are designed for trimming branches of fruit trees/garden trees, especially thick branches.

Do not cut hard objects such as iron other than branches.

Before using the pruning shears, check the tightness of the blade tightening nut. If there is any looseness, use the included tool to tighten it securely.

For good use of the pruning shears, please add lubricating oil before using the pruning shears. After use, wipe the pruning shears clean before storing.